Happy Valentine's Day!
I'm single so I'm not really celebrating. But I think Valentine's Day is an adorable fake holiday. Mostly because it celebrates chocolate and love. Oh, and because bloggers go wild and create the most beautiful recipes ever. I have never seen so much red, pink, and chocolate on food blogs than during this time. I think it's only fair that I showcase some of those wonderful Valentine's Day recipes. I would eat every single thing here if I could…
Btw, if you are sensitive to chocolate and love… I recommend you to look elsewhere 😉
This post is FILLED with drool-worthy links!
In no particular order….
1. Holy bejezuuuus… this XXL Death By Chocolate Cookie is calling my name. Lordy, Lordy, Lordy.
2. Wow, how awesome is this bundt cake? And the name is even better: Make my Heart Pound Cake. Gotta love the creativity!
3. If you've never had dessert crepes, you must try them, like ASAP. While my favorites are with Nutella, there is just no way I could say "no" to these Strawberry & Chocolate Crepes.
4. These Raspberry Pudding Bars may not have hearts all over it but I think it's perfect for a Valentine's Day dessert – I noticed a little craze with pudding desserts and I love that this is happening. I am a pudding lover. These bars look great!
5. Check out these No Bake Caramel Mud Pie Cups. Ummm, heck YES to every single thing in this title. I love caramel. I love mud pie. And just look at those adorable hearts.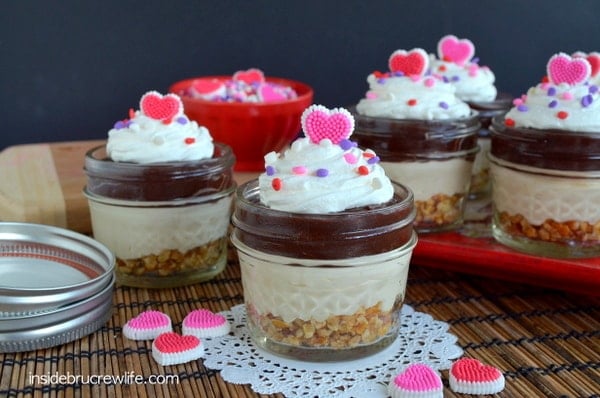 6. I have never had macaroons before. I know, I know. Shame on me. Look at these beautifully pink Macaroons Framboise. Just gorgeous. Perfect for a girly Valentine's Day dessert.
7. So maybe these aren't totally Valentine's Day-ish but who doesn't love the combination of chocolate and wine? Especially in the form of cupcakes. Like these Red Wine Chocolate Cupcakes with Red Wine Buttercream. Perfect for Valentine's Day for a single girl too 😉
8. Can I just PLEASE have some of this Skinny Raspberry Swirl Cheesecake? It doesn't look Skinny in the slightest! Ahhh!
9. I am a mousse lover… but this Chocolate Coconut Mousse has a slight tinge of cheesecake in it to due to the cream cheese and you obviously already know my love for cheesecake. And chocolate. And coconut, actually. This one is a winner! Even though it's not entirely Valentine's Day-ish but the little hearts on the bottom of the plate make up for it 😉
10. I am a sucker for heart-shaped desserts… and if it's a heart-shaped dessert that also includes chocolate, cheesecake, AND strawberries? I am done. *drooled to death* Amazing 100% Whole Grain Strawberry Cheesecake Brownies.
11. You can't go wrong with truffles for Valentine's Day. Like these vegan nut-free dark chocolate truffles.
12. Dark Chocolate Fudge Merlot Cupcakes. No more is needed to be said. <3
13. I just love how adorable these Cranberry Shortbread Cookies with Chocolate Glaze. And yes, they are vegan! How awesome!
14. Look at these cute Zesty Pink Lemon Coconut Chocolate Bites. Such adorableness.
15. Convesation Heart Macaroons. Again, I never had macaroons before but I want to try them already. I love the little adorable messages these bear! "Love Bug" – so cute for Valentine's Day, better than those little candy heart messages.
Whew, that was a whole lot of deliciousness. Hope you enjoyed.
What are you favorite Valentine's Day recipes? Links welcome!
Sensual Appeal Blog may collect a share of sales or other compensation from the links on this page.