Seriously guys, where has the time gone? Only a blink of an eye ago it was still summer and today is already the first day of October! We are in the middle of Fall and it's crazy! Time is going by so fast but yet really slow at the same time. Halloween is only a few short weeks away and I still haven't figured out what I'm going to dress up as! Oops.
October is looking like a marvelous month because of many different marvelous reasons, such as:
Kasey and Heather have teamed up to create #plantPOWER – a marvelous October challenge in which they encourage us readers to go plant-based for the challenge meals and snap a pic of each. They have some prizes that we can win for participating too. It's awesome and I'm all for a challenge that will help me get out of my food rut!
Another marvelous photo-a-day challenge comes from Linsday and her challenge, #LiveLeanEatGreen, is more focused on fitness and general happiness and well-being. Loving the balance of healthy food, movement, and other fun things she put together for us to do!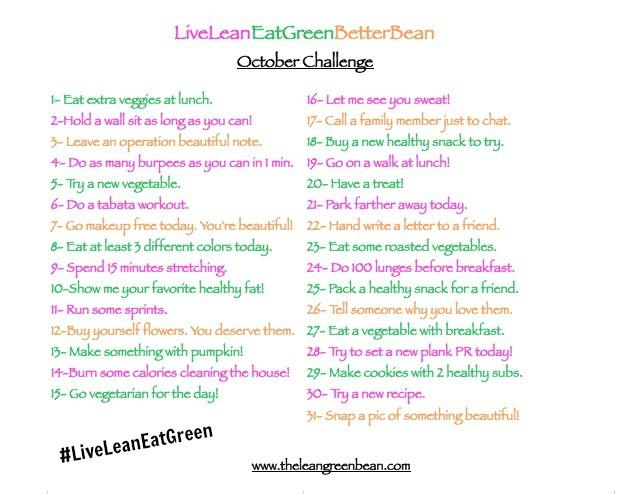 Third marvelous thing happening later this month (22nd, to be exact) is the start of Tina's Best Body Bootcamp and I am SO SO SO stoked for this! I am in dire need of revamping of my exercise schedule and I need a good kick in the butt!
Marvelous October Goals:
Try to eat more intuitively – eat when hungry, not just because the 3 hours are up and I'm bored.
Beat boredom by going for walks or reading a book.
Eat more veggies through the day, limit sweet meals.
Follow a workout schedule, but also listen to my body when it says "no"
Move more throughout the day
Now, as a small recap, I love marvelous deals: at Ulta, they had a freebie special, if you spend $35+ in BareMinerals you get 4 free things and it just so happened that I am almost out of my foundation so I made a trip and got a new foundation and a new lipstick…
Look at all the freebies I got with the purchase though! A makeup bag, primer, mascara, blush, and mineral veil! The blush and mineral veil I was going to buy actually too but I think they came as a gift so it was perfect timing! Woohoo!
Hope you guys have a marvelous Monday!
Do you like freebies and deals for makeup?
Will you be participating in any of these challenges?
Last Updated on March 29, 2019