Yes, summer is finally here. I am officially done with my Junior year of college as of last Thursday. I decided to take a whole week off to do nothing – therefore I came to my parents' house in the suburbs for a few days. So then, finally, my WIAW looks a bit different than usual. And I think that's a good thing – I needed variety in my life. My daily eats have been looking boring lately. Well, not like this time they are, like, super exciting or fancy or anything… but the whole day looks different from what I've been doing lately.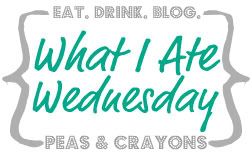 Here's what I ate on Monday.
Before my morning weight training session, I had three dark chocolate covered blueberries with acai to give me some morning energy. I usually do my workouts in my building's gym, but since I'm in the suburbs, the commute to the gym was a bit longer so I didn't think going sans-snack was a good idea.
After my workout, I had two small organic scrambled eggs with ezekiel bread and cucumbers. Green tea on the side.
Then I had some leftovers from our dinner last night at a Mediterranean/Egyptian restaurant. Fried eggplant, rice, and veggies. It looked like this, but I managed to only eat about a third.
Then I baked something awesome with the fresh strawberries we bought yesterday at Coscto. Unfortunately, a lot of them are already overripe. I hate when that happens. I took a slice of this loaf and topped it with more fresh strawberries and cottage cheese. Drizzled some (okay, a lot) of honey on top.
And because I was going back to the city the following day and knew I wouldn't get to have these fresh berries for a while (grocery shopping day isn't till later this week!) I made myself another bowl of strawberries,  but this time I added sliced banana and almond butter… okay, and some honey.  I just love sugar lol natural sugar, that is 😉
Ended the day with a couple more chocolate covered blueberries with acai. Yeah, day full of sugar and I'm not even feeling all that guilty. Whatever. Thanks for reading 🙂
PS. Today is the LAST day to enter my giveaway for Fruition Superfood Snacks. Enter now!
Last Updated on March 29, 2019