Documenting my day's eats that took place on Mother's Day. Don't judge me. I realize I'm supposed to eat more veggies and I DO eat veggies, I swear… just for some reason, it hasn't been on the day I select for WIAW documenting haha. It's a special day, gimme a break 😛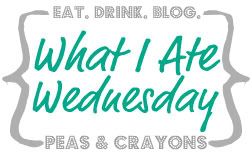 Thank you to lovely Jenn from Peas & Crayons for hosting yet another WIAW party. Wednesdays have truly become days I look forward to all week – just because of her. So thank you!
Mother's Day – Sunday
1- Started the day off with chunky applesauce with plain Greek yogurt, fiber cereal from TJ's, almond butter, sprinkled with cinnamon and drizzled with honey. (not pictured)
2- We went to a Thai resto for Mother's Day for an early dinner:
Teriyaki Mushrooms for appetizer
Stir fry vegetables with barely touched white rice (Just not a big rice fan. I only like it in sushi, I guess)
3- I baked my mom a dessert! She loves red wine and chocolate so I combined it…
Red wine chocolate cupcakes. She loved them. & that's our doggie, Cookie, in the background.
4- Another dessert at home, tried to make it a bit healthier… well, not really.
The healthy part comes from cottage cheese and strawberries. The dark chocolate syrup (from TJ's) is the not so healthy part.. I needed a change from the regular honey I usually drizzle on this concoction.
Last Updated on March 29, 2019