Thank GOD I decided on leaving my apartment in downtown Chicago on Saturday. I knew the city would become chaotic because of the NATO summit. I'm not gonna talk much about what happened over there. I don't have an opinion on NATO matters and the protests that were taking place. I'm simply not aware enough of what is going on. I don't even really know what it is the NATO does. All I think about this, or rather, what I wonder about is – with the technology we have today, why on earth do the world leaders still have to MEET UP in person to discuss their issues?
Personally, I think it's for publicity. I think it's to show the public that they do have the power over everything. With the technology we have today, I'm sure they all talk and do conferences online with crazy high tech web cams already. A "summit" shouldn't even be necessary. It only causes chaos and a reason for distress and for people to protest.
Also, the news and everyone has been so "ready" for the protests, I feel like doing that is a form of self-fulfilling prophecy – the protests are made to be seen as appropriate and expected, therefore of course they will happen. Being "prepared and ready" so publicly for protesters is like a way for the world to know that it's okay to protest and it's expected. I feel like if nothing was to be said about it ahead of time, the protests wouldn't have been as large as they have been. Although, I don't know much about the protesters either. Again, just personal opinion. I don't know much. So yeah. If you know more and wanna share, you're welcome to.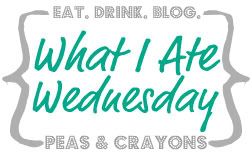 Thanks again to Jenn from Peas & Crayons for hosting this awesome weekly event 🙂
So yeah, aside from all that madness… a few hours before I left the city on Saturday, I decided to go to the park and read followed by a walk by the lake. It was too beautiful to not take advantage of it. I really love summer. I've decided I really have to take walks more often – it's just so calming and blissful. I felt amazing. Everything was alright and no worries or concerns entered my mind. It was wonderful. I really am lucky to be living in such a lovely city, right in the heart of it, no less. I love really love it.
Breakfast consisted of the usual scrambled egg whites and salsa – this time with an addition of spinach and red peppers, along with some cucumber on the side.
Then for lunch I had some beet soup (barszcz) topped with plain greek yogurt (instead of sour cream). I absolutely love Polish soups. They are simply amazing. Deliciousness. Ahh, I want more already.

My parents and I made our trip to Costco but on the way we stopped by Carson's since I haven't been to one in a while. I really need new shoes. Unfortunately, I didn't find anything too awesome at Carson's. I did, however, try on a maxi dress. I never thought I would ever want to buy a maxi dress – I didn't think they were flattering to my figure. But after trying this one on – oh man, I am totally on a search for the perfect maxi dress now! This one would have been perfect if not for the overwhelming padding in the bust. I'm gonna wear a bra with it anyway so I don't need all that extra padding. Oh well. The search begins!
We got home and ate some freshly cut up watermelon. Mmmm pefect snack for a perfect summer day. Cool and refreshing.
The weather turned into cloudy and a little stuffy. I, then ate, a usual concoction of mine. I always make the craziest concoctions, my parents always just shake their heads at me when I do. I can't help it – I just like having complexity and variety in my food! I can't settle for just two flavors! Haha.
Yeah, the picture is kind of  really ugly. It definitely tasted much better than it looked. Delicious, in fact. Cottage cheese, chunky unsweetened natural applesauce, almond butter, cinnamon and honey.
To end the day right, we decided to venture into a new place that just opened up in downtown Arlington Heights. The first frozen yogurt shop in our town's downtown. Self serve, no less!
We went at 9 pm and the line was out the door! Literally. Was the wait worth it? Yes and no. The yogurt flavors were pretty tasty and they included the information about which ones were fat-free, gluten-free, etc however the actual nutritional information was either extremely small to read or was missing, which was pretty disappointing. I want to know what I'm putting in my body so I can make the better choices, even when it comes to dessert. Especially when I'm in the "super healthy mode." Also, this place sucked when it comes to toppings. There was a very small variety of fresh fruit toppings but a huge variety of candy and sweet toppings – not okay for me because I always only get the fruit. Sigh.
Thankfully, upon getting home with our frozen yogurt concoctions, I added stuff to the mix in form of coconut flakes, whipped cream, and some dark chocolate syrup. Yum!
Last Updated on March 29, 2019